Industrial Dedusting Systems
Dust Extraction Systems – Dust Collectors
We execute dust extraction systems for different industries (e.g. power engineering, metallurgy, founding, as well as chemical, food, and woodworking industries). Depending on the customer's requirements, we implement projects in the "turnkey" system (all project stages from the design through production and assembly of system elements, star-up and service) or in the scope indicated by the investor (e.g. design of a dust extraction system plus production of an extraction unit).
​Our potential allows us to make systems with capacity of 1.5 million cubic metres of extracted air per hour. We specialise in projects requiring specialist knowledge on explosion safety (extraction of flammable and explosive dusts, gases and liquid vapours, as well as hybrid mixtures).
Scope of works performed – dust extraction systems
preparing concepts and designs for all industries
manufacturing dust extraction units and key elements of the system
developing and implementing control system
assembly, start-up and service of dust extraction systems
developing concepts and implementing safeguards limiting the risk and effect of an explosion
working out an explosion risk assessment and/or an explosion protection document
Note
The Company's own design office and manufacturing plant allow us to construe complex systems that require specialist building, electrical and constructional knowledge as well as that on explosion safety.
​
We design systems while basing on filters manufactured by us, which on one hand allows us to assure the highest quality and, on the other hand, to provide price competitive solutions. Only in justified cases or at the investor's request (unification of filtration units on a given plant), we use filtration units provided by outer companies.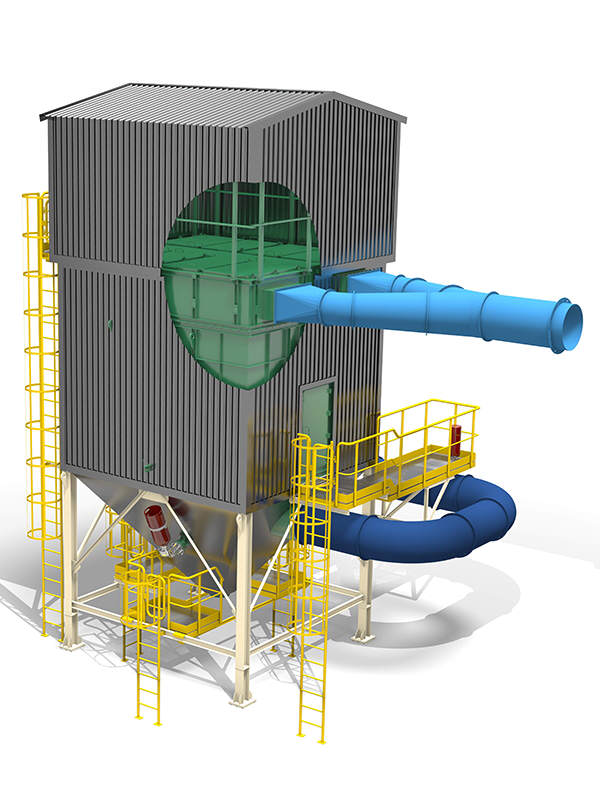 Coal dust filter protected against explosion effects by an explosion dumping system (HRD cylinder) and an explosion decoupling system (HRD cylinder) as delivered to a power plant belonging to Polski Koncern Energetyczny (Polish Energy Concern). The "turnkey" delivery included designs for all works, manufacturing the dedusting unit and pipelines, connecting the dust extraction system to the power plant Distributed Control System, preparing an as-built explosion risk assessment.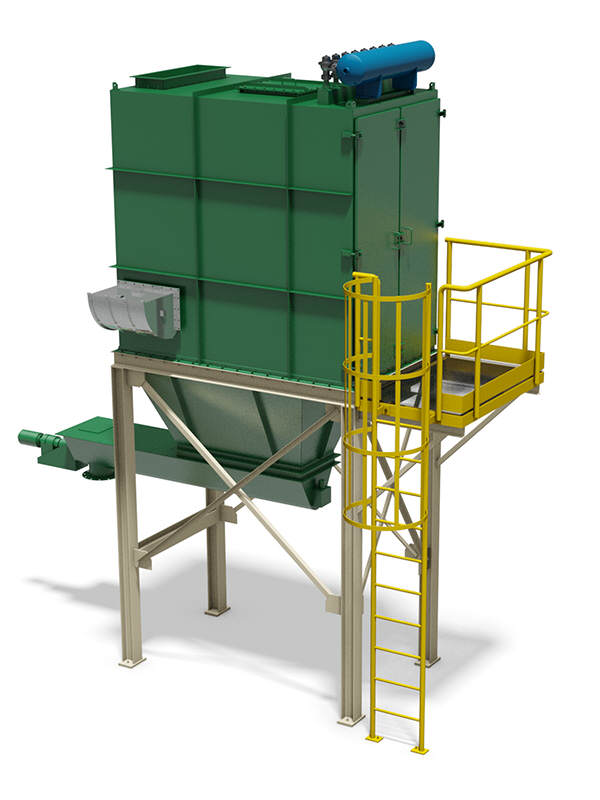 Dedusting unit designed and delivered in the "turnkey" system to the Stalprodukt company's production plant. The system has been adjusted to explosion safety requirements (ATEX directives). The filtration unit has been protected against dust explosion effects by flameless explosion venting (Q-BOX) and explosion decoupling (non-return damper).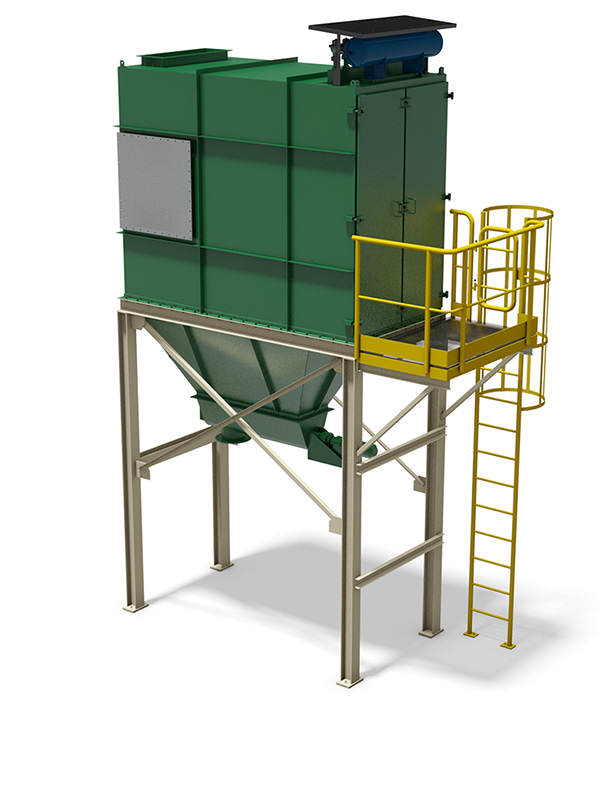 3d design of a dedusting unit protected against explosion effects by a relief system (decompression panel) and explosion decoupling (HRD bottle, not shown in the figure). The above filter is a core of the dust extraction system delivered "turnkey" to the Saint-Gobain company's production plant.