For a large European manufacturer of synthetic fertilisers, the WOLFF GROUP currently delivers one of the largest contracts for the supply of vibration screens in the continent. This is the third significant contract for the supply of screens signed by our company recently – second for the synthetic fertilisers industry. The implementation of the task will last until 2019. Details concerning the contract and the technological process are covered by a non-disclosure agreement.
The task will be completed in a "turnkey" system and will include the delivery, supervision over installation, commissioning and further servicing of the equipment for two granulation lines. The equipment will be responsible for the separation of the finished, sales-ready product grade from the stream of granulated fertiliser. The grades which do not comply with the restrictive requirements of the manufacturer regarding granulation will be returned to the process.
The screens are completely automatic and fit for continuous operation. The applied system of direct transfer of vibrations to the screening meshes via a series of electromagnetic heads transmitting the vibrations to pendulum axles connected to the meshes. During the operation, the enclosure of the screen remains motionless. This system enables high efficiency and very good quality of the screened product. At the same time, the possibility of mesh sizing is limited to minimum levels, thanks to the applied automatic system for cleaning the meshes during screen operation.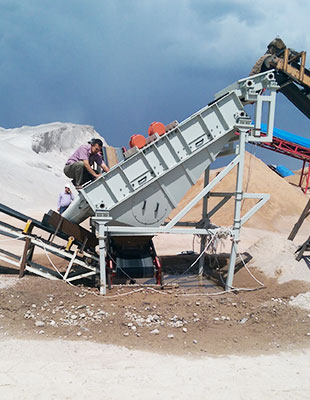 SCOPE OF WORKS: "turnkey" supply of vibration screens