Industrial Central Vacuum Systems
Central Vacuum Cleaner Systems
We execute dust extraction systems for different industries (e.g. power engineering, metallurgy, founding, as well as chemical, food, and woodworking industries). Depending on the customer's requirements, we implement projects in the "turnkey" system (all project stages from the design through production and assembly of system elements, star-up and service) or in the scope indicated by the investor (e.g. design of a dust extraction system plus production of an extraction unit). ​Our potential allows us to make systems with capacity of 1.5 million cubic metres of extracted air per hour. We specialise in projects requiring specialist knowledge on explosion safety (extraction of flammable and explosive dusts, gases and liquid vapours, as well as hybrid mixtures).
Why apply central vacuum systems
Industrial central vacuum systems are applied for removing deposited dust from floors, flat surfaces and structures of machines and factory shops. It is aimed at maintaining working areas clean and thereby protecting workers, machinery and equipment against adverse effects of dust, including the risk of secondary explosions (in case of flammable dusts).
​
Major tasks fulfilled by central vacuum systems:
protection of workers' health and lives against harmful effects of dusts
protection of machinery and equipment against damage caused by dust interference
protection of systems and workers
Central vacuum systems and explosion safety – ATEX
As it has been said above, one of major tasks of central vacuum systems is limitation of the risk of secondary explosions through removal of the so called deposited dusts from the working area. This solution on one hand increases the explosion and fire safety of the plant and, on the other hand, allows to limit the costs related to adjusting the process system to ATEX directive requirements (central vacuum systems allow to limit the explosion hazard area and thereby, to apply less expensive equipment with a lower ATEX certificate).
At the same time, attention should be paid to the fact that in case of flammable and explosive dusts, the central vacuum system must fulfil requirements of the ATEX directive, i.e. to have safeguards limiting the risk of explosions inside the plant and effects of the same.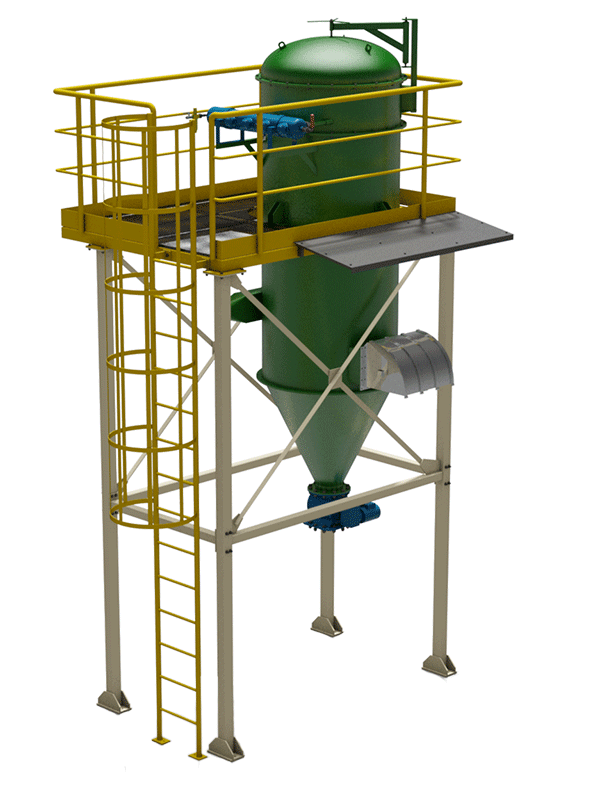 Central vacuum system dust collector protected against explosion effects by flameless explosion venting (Q-BOX) and a decoupling system (non-return damper) A 3d design developed on the basis of the design input for the investment projects implemented in two power plants belonging to the EDF group.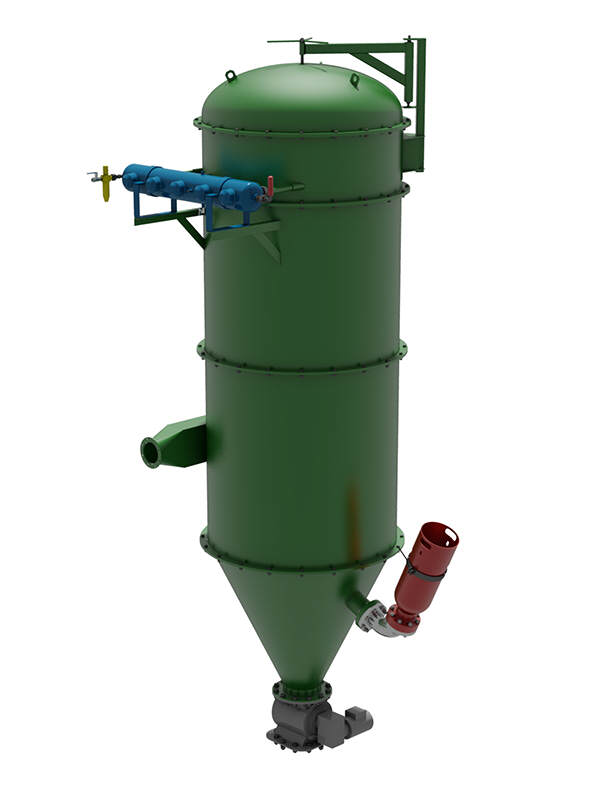 Central vacuum unit in the explosion-proof design (the ATEX version) intended for operation with flammable, explosive and toxic substances.