Brilex KER decompression panels
Brilex KER relief panels are ideal for use in bucket elevators, atmospheric tanks and other protected instruments where there is no variable pressure. One of the many advantages of this panel is the structurally reinforced edges, which allow installation without the need for an outlet flange, thus reducing costs of installation.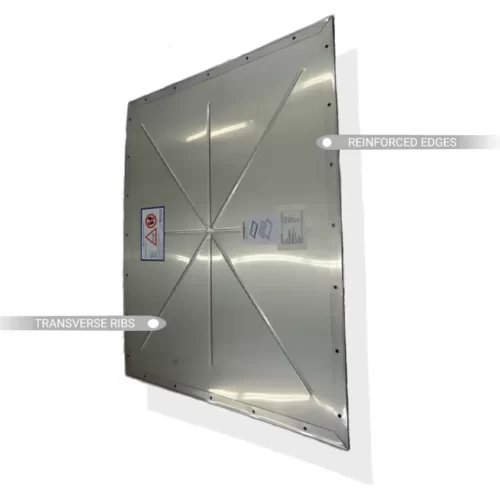 Up to 100% venting efficiency  
 One-piece design with cross ribbing provides faster explosion response than commercially available three-piece panels 
 Structurally reinforced edges 
Brilex KER decompression panels are flat rectangular explosion protection vents, which feature a one-piece construction with reinforced edges and cross ribbing. They are certified at 100% ventilation efficiency for Kst values up to 250 bar.m/s (for all sizes) and 97% for Kst values from 250 – 650 bar.m/s for sizes up to 920×290 mm and 78% for Kst values from 650 – 830 bar.m/s for sizes up to 490 x490 mm. Brilex KER panels can be supplied with insulation thickness from 40 mm to 100 mm. Suitable for use in equipment with static over/underpressure of up to 50% of the rated opening pressure.
Standard specifications:
Material: 304 SS or 316L SS
Integrated seals
Opening pressure (Pstat): Standard 0.1 bar at 20 C, for other certified parameters (lower or higher) opening pressures contact us
Tolerance regarding opening pressure: Standard +/- 10%.
Vacuum resistance: 50% of the rated opening pressure
Maximum operating pressure: up to 50% of the rated opening pressure
Sizes: Rectangular (229 x 229 to 1000 x 2000 mm)
Insulation: Optionally with ROCKWOOL with aluminium cover or Armaflex.
Venting efficiency: 100%, 97% and 78% depending on Kst, size and Pred(max)
Browse the available dimensions of Brilex KE explosion relief ventsR
| Wymiary wewnętrzne [mm] | Wymiary zewnętrzne [mm] | Powierzchnia odpowietrzenia [cm²] |
| --- | --- | --- |
| 110 X 290 | 170 X 350 | 300 |
| 229 X 229 | 309 X 309 | 510 |
| 205 X 290 | 285 X 370 | 580 |
| 229 X 305 | 309 X 385 | 680 |
| 150 X 600 | 230 X 600 | 880 |
| 220 X 420 | 300 X 500 | 900 |
| 315 X 410 | 365 X 460 | 1250 |
| 340 X 385 | 400 X 445 | 1280 |
| 305 X 457 | 385 X 537 | 1380 |
| 247 X 610 | 327 X 690 | 1450 |
| 340 X 440 | 400 X 500 | 1480 |
| 400 X 400 | 500 X 500 | 1480 |
| 410 X 410 | 490 X 190 | 1650 |
| 300 X 600 | 350 X 650 | 1800 |
| 300 X 620 | 380 X 700 | 1860 |
| 320 X 640 | 380 X 700 | 2000 |
| 319 X 765 | 399 X 845 | 2350 |
| 490 X 490 | 570 X 570 | 2370 |
| 375 X 655 | 455 X 735 | 2400 |
| 390 X 620 | 470 X 700 | 2400 |
| 445 X 597 | 525 X 677 | 2600 |
| 470 X 610 | 550 X 690 | 2800 |
| 490 X 590 | 570 X 670 | 2850 |
| 420 X 770 | 500 X 850 | 3200 |
| 247 X 1345 | 327 X 1425 | 3300 |
| 525 X 668 | 645 X 788 | 3400 |
| 600 X 600 | 650 X 650 | 3600 |
| 610 X 610 | 690 X 690 | 3650 |
| 247 X 1645 | 327 X 1725 | 4050 |
| 457 X 890 | 537 X 970 | 4050 |
| 620 X 670 | 680 X 730 | 4100 |
| 645 X 645 | 735 X 735 | 4100 |
| 653 X 653 | 733 X 733 | 4200 |
| 669 X 669 | 735 X 735 | 4350 |
| 630 X 730 | 710 X 810 | 4550 |
| 620 X 820 | 675 X 875 | 5000 |
| 520 X 1020 | 600 X 1100 | 5250 |
| 586 X 920 | 666 X 1000 | 5350 |
| 500 X 1100 | 580 X 1180 | 5400 |
| 750 X 750 | 830 X 830 | 5600 |
| 420 X 1420 | 500 X 1500 | 5950 |
| 629 X 1004 | 689 X 1064 | 6000 |
| 750 X 840 | 830 X 920 | 6250 |
| 800 X 800 | 850 X 850 | 6400 |
| 801 X 801 | 880 X 880 | 6400 |
| 500 X 1350 | 580 X 1430 | 6700 |
| 610 X 1118 | 690 X 1198 | 6750 |
| 645 X 1130 | 725 X 1270 | 7280 |
| 720 X 1020 | 800 X 1100 | 7300 |
| 920 X 920 | 1000 X 1000 | 8400 |
| 940 X 940 | 1000 X 1000 | 8800 |
| 970 X 970 | 1050 X 1050 | 9400 |
| 1000 X 1000 | 1080 X 1080 | 10000 |
| 1000 X 1000 | 1000 X 1000 | 10000 |
| 915 X 1118 | 995 X 1198 | 10000 |
| 1020 X 1020 | 1100 X 1100 | 10400 |
| 790 X 1340 | 870 X 1420 | 10500 |
| 720 X 1670 | 800 X 1750 | 12000 |
| 1130 X 1130 | 1220 X 1220 | 12500 |
| 920 X 1380 | 1000 X 1460 | 12500 |
| 940 X 1440 | 1000 X 1500 | 13500 |
| 1130 X 1520 | 1220 X 1610 | 17150 |
| 1130 X 1727 | 1230 X 1827 | 19200 |
| 1000 X 2000 | 1080 X 2080 | 19500 |