Spark Detection and Extinguishing System
The spark detection and extinguishing system is designed to stop ignition sources from getting into areas at risk of dust explosion, such as silos or dust filters. Extremely fast and sensitive spark detectors detect ignition sources within a millisecond and then start extinguishing with a small amount of water. The extinguishing process usually lasts 5 seconds and stops automatically after which the system automatically switches to normal operation mode.

Contact our engineer
---
---
We will answer questions about: offer, technical specification, delivery, assembly.
The spark detection and extinguishing system consists of the following components: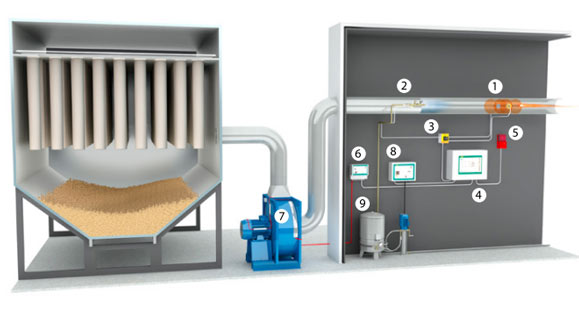 Spark detectors detecting the source of ignition within milliseconds.
Extinguishing unit for extinguishing sparks and embers with a small amount of water.
Signal router that controls and monitors the extinguishing system.
VR18Z control panel monitoring the entire system.
Alarm device informing about the threat by means of a sound signal and a flashing light.
Controller that stops blowers in case of overheating or spark shower.
Cable for detecting overheating, monitoring bearings and blower circuit.
Compression controller supervising the operation of the water pump and heat conducting cables.
Compression system thanks to which the extinguishing water is free of air bubbles and is injected at the correct pressure.
Principle of Operation of the Spark Extinguishing System Exemplified by a Dust Removal Filter
The spark detection and extinguishing system is designed to detect in a split second a hot, glowing or burning particle that travels along with the air inside the duct, and then extinguish it by injecting a small amount of water into the duct. To this end, a spark sensor and a water nozzle are mounted on the duct. Both devices are installed at a certain, calculated distance, so that the system has time to react properly. Importantly, our solution uses patented detectors which makes it extremely effective.

Application
The industries using this technology include wood, paper, food, textiles, plastics, recycling and energy industries.
Advantages of the Spark Extinguishing and Detection System
proved correct operation at outside temperatures reaching -40ºC (suggested use of insulation covers),
sensors reacting to ultraviolet and infra-red rays, even in the presence of dense dust layers and other transported materials,
minimised amount of cabling to the central unit by the use of signal routers,
precise determination of the specific sensor response for multi-zone complex plants.
In addition to detecting and extinguishing sparks, the system prevents fires caused by overheating of fans, rotary valves and boilers thanks to the two temperature control circuits. The central unit turns off the faulty device posing a fire hazard and also triggers an alarm.
The VR2Z system also includes a device whose memory can store the last 3000 events. The controller contains alarm outputs for other systems.
Scope of Work Performed
Importantly, our capabilities are not limited to the selection of devices. We also design spark extinguishing plants, assemble them mechanically and electrically as well as provide service.
Regulatory Compliance
The Central Unit contains all the necessary functions required by the ATEX Directive. It was also developed taking into account the CEA requirements for spark detection and extinguishing devices.
Spark Detector – Important Features

The spark detector is one of the key elements of the spark detection and extinguishing system. The efficiency of detecting objects with potential risks of explosion and fire depends exactly on that component. Spark detectors also often have a significant impact on the cost of the whole system. Traditional spark detectors cannot cover the entire cross-section of the duct with their "eyes", so their manufacturers require that they be installed in pairs – one on each side of the duct. The V300EX series sensor has a 180o angle of view so it can see the entire cross-section of the duct. This in turn reduces the number of sensors by up to half. 
IMPORTANT FEATURES OF SPARK SENSORS
the sensor sees the entire cross-section of the dust pipe
up to 50% less spark sensors
ATEX certificate for 20, 21 and 22 zones
high wear resistance
heat-resistant version
AISI 316L stainless steel housing
fast, safe assembly without welding
no sensitivity to daylight
the sensor can detect also hot objects
Completed fire-fighting and explosion protection systems deliveries
Designing fire and explosion protection installations
Depending on the investor's needs, we are able to provide a single device, as well as design and then make a complete fire or / and explosion protection system. The scope of our works includes fire detection and alarm systems, extinguishing systems, ventilation and smoke removal and ventilation system, spark detection and extinguishing system, supression, relief and decoupling of the explosion.
Explosion safety
Due to over 25 years of experience in the field of explosion safety, if installation will process flammable or explosive dusts, we are able to make appropriate systems to protect against the effects of an explosion and studies required by law (including explosion risk assessment, determining of explosion hazard zones, explosion protection document).