Problem:
A large chemical plant uses a number of Ex "d" rated LV switchboards, which due to their age must be replaced with new ones

Client requested that the equipment to be supplied has the same design and configuration as the existing one

Supplying the equipment as per Client's requirements uncritically – without considering the conditions – would have the Client incur significantly higher costs for lower functionality
Solution:
Having talked to the Client in depth, we were able to ascertain their actual needs

Starting from there, we managed to offer an equivalent products up to the Client's requirements, at a price reduction by several dozen percent
Check the solutions used:
Why Change If It Works?
Many clients require the delivery of identical solutions to those working for years, when they rebuild their systems. This is a conservative approach, assuming that the newly-installed device will not fail, because the previous one has worked well for years. The same type of equipment is seen to be preferred for replacement purposes even if malfunctions have occurred. This is because its users learn to live with it. They already know the procedures and can solve most frequent problems. This has also been the case with the project for which we will supply extended switchgear for operation in Hazardous Zone 1 (Ex II 2 GD). The equipment will be installed in the PVC department of one of the chemical plants.
Existing Situation
The switchboards to be replaced as new were manufactured with the use of Ex "d" rated flameproof enclosures. This type of enclosures allows components without ATEX certification to be assembled. In fact, such components can cause ignition of explosive atmospheres, but only those that penetrate into the enclosure. 
In other words, an explosion can only happen inside and it will be safely contained by the enclosure. For this to happen, however, the enclosure must be able to withstand the pressure of the explosion, and the size of the gaps in the housing must be kept strictly below a required value.
A Seemingly Ideal Solution
This might seem to be a perfect solution. The truth is that it is fraught with issues, the most important being,
high purchase cost, namely, using cheaper non-certified components cannot compensate for the high cost of the enclosure itself,

short interval of maintenance work to keep the correct gap size (failure will result in the loss of enclosure's properties)

because it contains components that could cause explosion, the switchgear can be opened only after an explosive atmosphere has been removed from the environment where the switchgear is installed, which often involves production stoppage and hot works permit
A Solution for Several Dozen Percent Less
Our engineers' analysis and calculations showed that using an increased safety Ex "e" enclosure would prove much more advantageous. While only certified, and thus more expensive, components can be fitted inside, the enclosure itself is much cheaper than the flameproof Ex "d" design. In this particular case, the increased safety EX "e" switchgear have been assessed as much cheaper and much easier to operate.
In the following section, I will list just a few of the advantages of the increased safety Ex "e" over the flameproof Ex "d" switchgear.
Purchase cost reduced by several dozen percent, and easier installation

No frequent maintenance works as in the case of Ex "d" enclosures

Much easier checks thanks to certified components inside the enclosure, which in turn does not require explosion hazard zones to be removed or hot works permit to be issued for the inspection works

Special access panels for restarting the switchgear after an overload in just a few minutes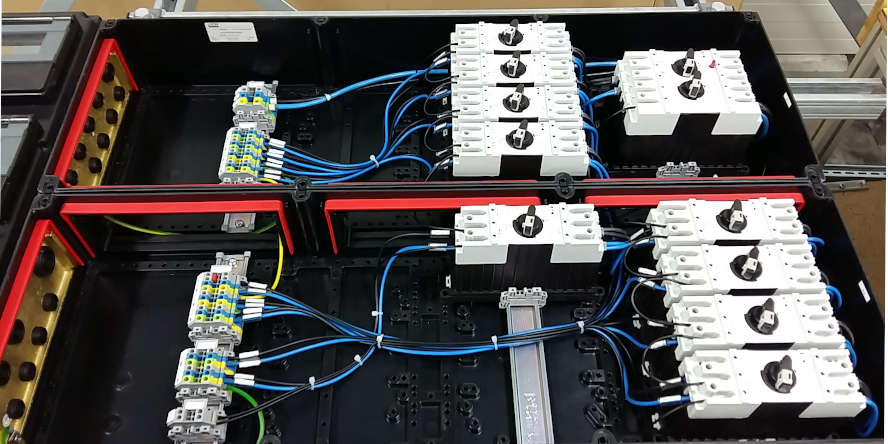 Photo 2: Inside view of an explosion-proof switchgear (Ex "e" enclosure) during assembly at our plant.
Switchgear Enclosure Core Features
Marking as per 2014/34/EU (ATEX): Ex II 2 G Ex de ia/ib m (ia/ib) IIC T6/T5/T4 

EU type testing approval: Ex II 2 D Ex tD A21 IP66/IP65 T80°C, T95°C 

Allowable ambient temperature from -29°C to +40°C (from -55°C to +55°C, optionally)

Rated voltage: 690 V 

Rated current: up to 315 A 

Protection class as per EN 60529: IP66 

Enclosure material: fibreglass reinforced polyester 

Enclosure colour: black
Changing Habits
You certainly know how difficult it is to change one's habits. The same principle applied in this case. We could have possibly not tried to talk the Client into accepting a better solution on the basis of some objective data… and we could have theoretically supplied switchboards in the Ex "d" enclosure. However, we decided to provide the customer with a better, more valuable solution at a lower price. We held a special training workshop with a demonstration of our solutions to showcase the advantages of the proposed solution. This was the first step in changing the Client's way of dealing with this purchase. 
We asked Maciej Freza, Manager of Explosion-Proof Electrical Engineering Department, how he would convince our prospective customers to start a collaboration with the WOLFF GROUP. He shared his views on this matter below.
Maciej Freza: "We always make efforts to assist clients in deciding both which switchgear enclosures and which accessories are the most cost-effective in their respective cases. For example, with regard to the modernization of switchgear, we check whether the load components have changed over the years, e.g. in order to upgrade the lighting system from old-type lamps to LED lighting). This can be of major importance for proper switchgear operation.
We also assist in the selection of appropriate protection devices for switchgear, taking into account the operating conditions and final parameters of the loads installed. We always do our best to weigh the technical conditions against the financial aspects. 
We also try to follow the rule of "MEET AND TALK IT THROUGH". Even during the current pandemic, one should use on-line meetings, which differ from meeting your business partner in person only by not letting you smell the coffee you share. Let me point this out that the idea to alter the concept of switchgear described in this article should come as an example, because we presented it to our Client in one of the specially prepared meetings, which included a training workshop and a product demonstration.
Finally, I would like to stress that switchboards are built in our own assembly plant near Kraków, which means we are flexible in terms of completion dates and subsequent upgrades."