Smoke removal and ventilation system
We design and implement ventilation and smoke removal systems for enclosed structures, escape routes and staircases. We supply the proposed solutions complete with fire detection and alarm systems as well as emergency and escape route lighting. We may integrate them with the existing safety systems, too. The comprehensive task performance may also comprise design and provision of fixed fire-fighting systems.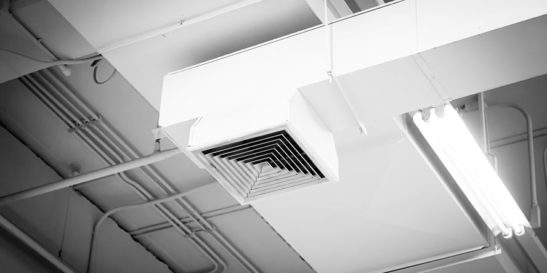 DONAT CZAPSKI

- I am at your disposal
---
We will answer questions about: offer, technical specification, delivery, assembly.
What we will do for you
Our supply may comprise design and implementation of a ventilation and smoke removal system or a complete fire-fighting system. Apart from the ventilation and smoke removal system, the complete solution may comprise fixed fire-fighting systems, voice alarm systems, emergency and escape route lighting, as well as flammable gases detection systems.
At the existing structures we integrate our solutions with the safety systems already present in place, which guarantees their efficient operation as one whole. Additionally, the design work may be preceded by preparing a fire safety plan and fire scenarios.
Structures for which we prepare smoke removal and ventilation systems
Smoke removal systems are used for the protection of health and life of people staying at various building structures. Their task is not only to ensure fast and safe evacuation but also to enable the rescue service to operate on site during fire. In the stand-by mode, the smoke removal system may also act as a ventilation system providing proper air exchange in the building, thus ensuring comfort to the people staying inside.
The typical structures for which we develop and implement fire-fighting systems but also smoke removal and ventilation systems include large enclosed structures, halls, commercial centres, high-rise buildings, underground garages, buildings with underground storeys as well as staircases.
Selected components of a smoke removal and ventilation system
Below listed are selected components based on which we implement smoke removal and ventilation systems as well as fire detection and alarm systems in civil structures. As may be seen, we use a broad range of solutions fit for a variety of buildings. We are, therefore, capable of developing optimal solutions as regards technology and costs, which fulfil the specific requirements of a given building.
SMOKE REMOVAL AND VENTILATION SYSTEMS USING COMPONENTS OTHER THAN THOSE LISTED BELOW

We are experienced in designing and implementing smoke removal and ventilation systems based on components by major Polish and international manufacturers. In that regard, we are be able to advise the best solution which fulfils the investor's requirements. If a specific solution is preferred, the selection of components suggested by the customer may be applied providing that that does not affect the safety level.
INTEGRATION WITH THE EXISTING SYSTEMS

Within our work we integrate smoke removal and ventilation systems with the existing safety and automation systems in a building. Our solutions are compatible with a majority of systems available on the market. An example integration may entail connection of our system to the following systems:
fire detection and alarm system
building automation system
water/foam/gas extinguishing system
voice alarm system
ATEX ZONE SOLUTIONS

As regards smoke removal and ventilation systems intended for industrial plants where explosion hazard zones are present, we use components fit for work in explosion hazard zones (ATEX certificates).
Additionally, we are capable of integrating the fire-fighting system with an explosion protection system, which guarantees streamlined and safe operation of both systems.
Control panel
Fire alarm control panels of various level of complexity. Designed in consideration of the highest safety standards and simplicity at each stage of implementation, starting from assembly, commissioning and daily use. The control panels may be integrated with external systems, e.g. through ESPA 4.4.4, NMEA-0183, MODBUS protocols. The control panels have menus in Polish. The piece of equipment has a self-test mode, which is started automatically every day.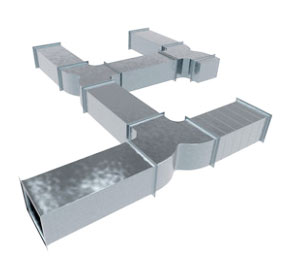 Components of a removal and ventilation system
A smoke removal system consists of dozens of different sub-assemblies which are intended to remove smoke and heat and/or limit smoke spreading. In our systems we use, among other things: fans, smoke vents, smoke ventilation windows, fire dampers, smoke dampers, intake and exhaust vents, ducts and mounting fittings.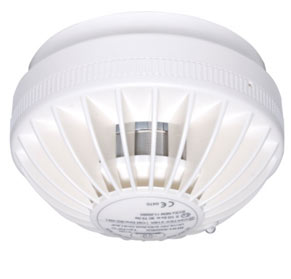 Smoke detector
It is a standard addressable detector applied in a majority of fire alarm systems. The detector may be adjusted with regard to sensitivity, while the embedded temperature-sensitive resistor enables temperature reading in the point of measurement. The device has been designed in accordance with standards for smoke detectors using light beams and short-circuit isolators in fire alarm systems (EN 54-7 and EN 54-17). The principle of the device operation is based on optical engineering.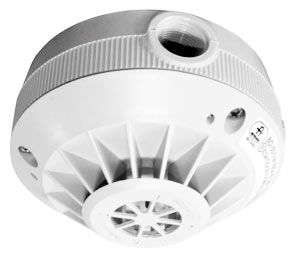 Heat detector
Heat detectors are used mainly in rooms where traditional smoke detectors will not work. Such situation may be present at premises where smoke is a normal phenomenon. Heat detectors may react when the ambient temperature grows to a specific level or when a fast growth of temperature is detected within a specific period of time.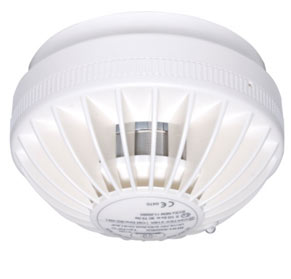 Multi-sensor detector
A multi-sensor, addressable detector connects the functions of a smoke detector and a temperature detector. The device operates in an active manner, which means that a growth of temperature results in increasing the sensitivity of the smoke detector. This solution ensures fast reaction of the fire alarm system independently. The device has been designed in accordance with standards for smoke detectors using light beams and short-circuit isolators in fire alarm systems (EN 54-7 and EN 54-17). The principle of the device operation is based on optical engineering.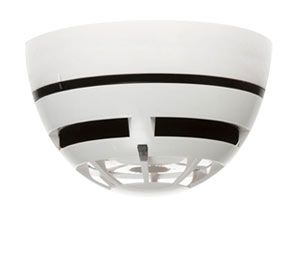 Wireless fire detector
Wireless fire detectors are available in three versions operating based on a heat sensor, optical sensor or an optical-and-heat sensor, which combines the features of the former two. All of the sensors are fully addressable and compatible with all of the expanders (signal intensifiers) and translators by Argus. The applied algorithms ensure optimal operation of the detectors by eliminating false alarms. Thanks to very low energy consumption, the device may operate up to 8 years on one set of batteries.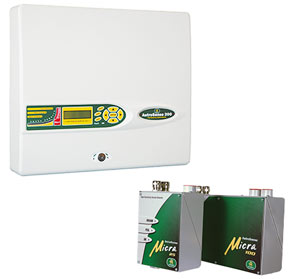 Aspirating smoke detector
Aspirating smoke detectors are intended for spaces where early fire detection and alarm are of particular importance. In such detectors air is aspirated from the monitored area through a system of tubes, and further analysed by the central unit. The sensors of the detector discover even the smallest quantity of smoke, which additionally shortens the fire alarm system reaction time. Such detectors are usually installed in laboratories, large and open spaces, archives or historic buildings.
Line smoke detector
Line smoke detector may replace several or several dozens of traditional smoke detectors. The solution is particularly useful in large-space structures or when the installation of a large number of traditional detectors is difficult (e.g. very high ceiling). Basic elements of the detector are a transmitter and a receiver. The transmitter emits a narrow band infrared light, which is directed towards the receiver. At the moment smoke particles get into the path of the beam, the alarm is triggered.
Line temperature detector
Line temperature detector is a special active cable with embedded sensors. The solution is intended to be applied in hardly accessible spaces or when temperature measurement is required along long sections reaching from several dozens to several thousands meters. The line temperature sensor precisely indicates the source of fire or overheating of the monitored equipment or cable route. The system does not require calibration but still works with very high accuracy (± 0.1°C). It is the first in Poland line temperature detector compliant with the Polish Standard PN-EN 54-22 (line-type heat detectors as elements of fire alarm systems). It is important that the system may be used in hazard explosion zones.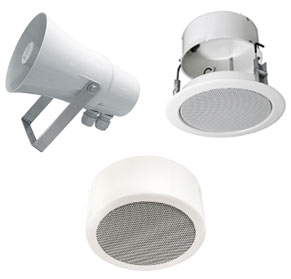 Voice alarm systems (VAS)
Voice alarm systems may be used both in closed spaces and in open space. The devices have been designed such that the emitted sound is loud, clear and audible from great distances. The system is supplied with such accessories as microphones or audio frequency amplifier. Voice alarm systems serve to transfer messages during a fire, which facilitates the evacuation of people. At the moment there is no hazard, the system may be used as a traditional loudspeaking system.
Wireless alarm sounder/ audible and visual alarm system
Fire is signalled through wireless alarm sounders or audible and visual alarm systems. The devices comply with the standard requirements for fire alarm systems and visual alarms in fire-fighting systems. The device is resistant to weather conditions. It has 32 sounds and a mute mode, in which it will only operate as a visual alarm. Thanks to the incorporated microphone it is capable of detecting proper operation when the alarm is sounded and return an error information to the system. The device installation is very fast and simple, and the use of the same generates very low costs.
Manual call points
Addressable manual call points are supplied in standards adequate to the working conditions. They are important elements of fire alarm systems (FAS), therefore, the solutions we propose guarantee fast reaction in a time shorter than 3 seconds. The devices have a self-test mode, which is started automatically every day. They are designed and manufactured in accordance with the EN 54-11 standard applicable to manual call points in fire-fighting systems.