Problem
Sparks and hot particles are sucked into the dust collector which causes damage to filter cartridges.

Each exchange of cartridges costs several thousand euro.

A mechanical spark trap was used, but it did not solve the problem.
Remedy
An exemplary diagram of a spark detection and extinguishing system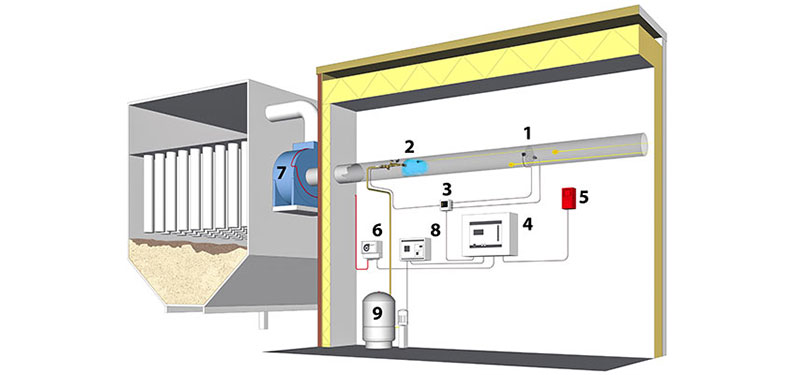 Spark detection and extinguishing system: 1) Spark sensors detect ignition sources in milliseconds. 2) An extinguishing unit designed to put out sparks and hot particles which do not emit visible light with a small amount of water. 3) A signal router for managing and monitoring the spark extinguishing system. 4) A VR18Z control panel providing system-wide monitoring functionality. 5) An alarm device informing about detected hazard with a sound signal and a flashing light. 6) A controller which stops the blowing fans if overheated or in case a rain of sparks is detected. 7) An overheat detection cable which monitors the bearings and the blowing fan circuit. 8) A compression controller which controls the operation of the water pump and heat conducting cables. 9) A compression system which removes air bubbles from the fire water and injects it at the correct pressure.
Objective
A spark detection and extinguishing system is most often used to protect dust collectors from explosion or fire. In this case, however, it serves a completely different purpose.
The protected dust collection system is used to purify the air from the copper smelting furnace. The process uses, among other elements, charcoal to protect the molten copper from adverse oxidation. Unfortunately, charcoal is also a major source of hot and glowing particles which reach the filter along with the air. This phenomenon would cause damage to filter cartridges resulting in frequent and costly replacement of these elements.
How to protect filter cartridges from sparks?
In order to protect the filter cartridges, the supplier of the dust collection system first used a mechanical spark trap. This solution reduced the scale of the problem, but failed to eliminate it completely.
Tests conducted using a spark detector as part of the safety system confirmed that a properly functioning trap did allow some of the sparks to pass through. As a result, they would get inside the dust collector where they would land on the surface of the filter cartridges.
Sparks are one thing, but what about hot particles?
In this case, not only sparks but also hot particles which do not emit visible light pose a threat to filter cartridges. Their temperature can often reach several hundred degrees Celsius. For example, the temperature of an extinguished match can be as high as 300oC.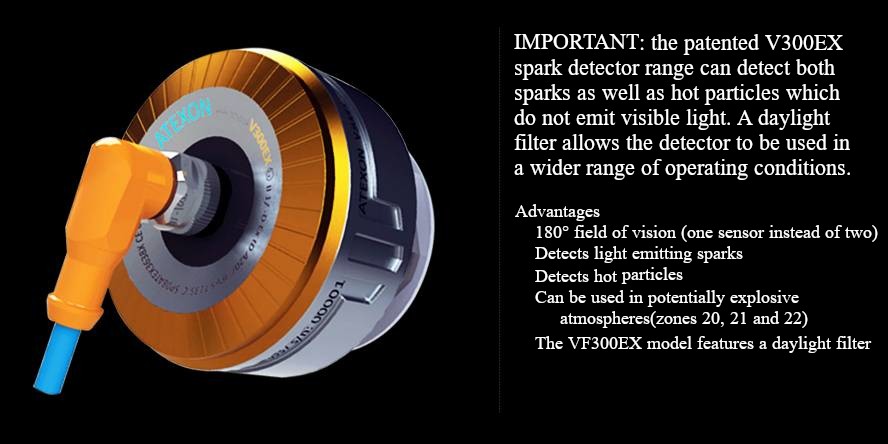 If we anticipate sparks in any process, we should be also mindful of the presence of equally dangerous hot particles. Unfortunately, this is very often omitted, which leaves an unprotected gap in the safety system.
In order to solve this problem, we have applied dedicated VS300EX HT detectors which detect both sparks as well as hot particles with temperature ranging from 300 to 550 oC in a wide spectrum of VIS/NIR/IR radiation.
Temperature does matter
Big temperature differences were always an issue for this particular project. On the one hand, the air is extracted from the smelting furnace, so that its temperature can reach 200 oC. On the other hand, in the winter time, the temperature in the production hall can drop below zero. For this reason, we have decided to use a special spark detector, which is suitable for operation in the -40 ÷ 200 oC range.
The scope of works
Construction of the spark detection and extinguishing system

Selection of components, including detectors, extinguishing nozzles, the water pressure boosting system and the control panel

Installation and commissioning of the system

Installation tests

Operator training