Fire systems – the offer
Sprinkler systems.
They are self-contained fire extinguishing systems that detect the moment a fire starts, then send information to the control system and automatically start the process of selective water extinguishing – only where there is a fire.
Deluge sprinkler systems.
They are equipped with open fire nozzles and can be divided into several extinguishing zones. When a fire is detected, the sprinkler valves for the area open. Water is released throughout the protected area.
Foam installations.
In particular, we use them for facilities with a high fire risk, such as: tanks for fuels, solvents and other flammable liquids; warehouses for plastics; warehouses for flammable products and/or locations where explosive atmosphere occurs.
Fire Detection and Signalling.
Designing and implementing comprehensive fire detection and alarm systems. Depending on your needs, we use one of the four available systems or a combination of two or three of them, to optimise your investment from a technical and cost perspective.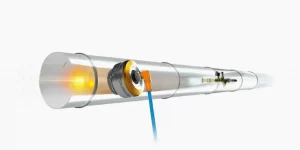 Spark Detection and Extinguishing.
These systems are designed for installation in the ducts of industrial installations. Their purpose is to prevent a potential ignition source in the form of a spark, cigarette butt or heated particle from entering the appliance.
Secure your installation.