Ground clamps with extremely hard and sharp tungsten carbide teeth – one of the hardest conducting materials on earth – guarantee a very secure grip to the object to be grounded, even if it is covered with a layer of paint, laminate, resin, dirt or rust.
Intended use
grounding of drums, iBCs, containers
grounding of road and rail tankers (cooperation with ground control system)
grounding of type C BIG-BAGs
Certifications and compliance
Destructive tests
What happens, if we hit the needle-sharp tooth of the ground clamp with all our might with a hammer?
Very robust, ground clamp with high tooth force which you can easily squeeze with one hand at the same time.
Clamp material
Stainless steel 304
Clamp teeth material
Tungsten carbide (one of the most durable conductive materials)
Fitting clamp teeth
In stainless steel block for maximum stability
Material of spring teeth
Stainless steel 302
Interchangeable teeth
Yes (this extends the life of the clamp to up to several years)
Working temperature
Od -40 do +60°C
Dimensions:
Large clamp (VESX90):

 240 mm x 105 mm x 33 mm; jaw opening: 40mm

Small clamp (VESX45):

 120 mm x 65mm x 25 mm; jaw opening: 15mm

ATEX certificate
Ex II 1 GD T6 (zgodnie z EN 13463-1 : 2009)
FM Global certification
Certificate of conformity number: 3046346
IECEx certification
IECEx Ex h IIC T6 Ga
Ex h IIIC T85°C Da
Ta = -40°C to +60°C
IECEx EXV 20.0033
Teeth made of the hardest material on earth
Tungsten carbide is one of the hardest conducting materials on earth. It is used, among other things, in anti-tank missiles due to its amazing properties. History tells us that the German military only started using it after it was discovered that it was being used by… Poles. But this is not the topic for today. It is from tungsten carbide that the teeth of our clamps are made. Why? Because tungsten carbide guarantees long-lasting clamp operation and the highest level of safety – the teeth, which remain sharp for a very long time, pierce through paint coating, laminate, dirt or rust with ease. And only then are we able to guarantee a secure and permanent grounding.
The durability of the tungsten carbide teeth has been proven by our test (see video) – it turned out that even a very hard blow with a hammer on a sharpened tooth did not leave any marks on it. For comparison, we performed a second test using a tooth made of steel – we found that the same impact completely destroyed it. The initially sharp tooth of steel has turned into a completely flat bar. The tip of the tooth formed a flat surface approximately 3 mm in diameter.
And what if the teeth become blunt
The teeth in our clamps are incredibly hard. But let's make it clear, nothing lasts forever. Even tungsten carbide will wear out at some point. What should we do then? Do you have to replace the entire clamp? Absolutely not. Forcing you to do so would not be fair. That is why the teeth in our clamps are interchangeable. Simply unscrew the two screws and replace the teeth with new ones in a matter of minutes. This is a cost-effective and quick solution which means that the bracket can work between a couple and several years.
Example application of ground clamps
Configure your own solution.
How about a welding clamp
Would you trust the clamp if your life depended on it? Welding clamps like the one in the photo taken in one of the factories, or battery clamps do not guarantee reliable grounding. If you have ever charged a battery using them, you will know how insecure is the connection they make – a little movement of the clamp caused it to be lost. In industry, this can cause an explosion or fire.
Key drawbacks of welding and battery clamps:
mostly flat or round surfaces instead of sharp teeth
made of the cheapest materials, including ordinary steel (rusting)
too little jaw pressure
The need for electrostatic grounding is primarily imposed by the ATEX directive. It is binding for industrial plants and warehouses, where explosive atmospheres occur to eliminate, among other things, this ignition source. However, let's forget about the legal requirements for a moment. The need for grounding e.g. tanks, vessels, systems and, in extreme cases, people, is a direct result of practice. Why? Because electrostatic discharge is one of the most common causes of fires and explosions in industry. How is that possible? Let's take a look at the data below. It turns out that a discharge from even an object as small as a bucket is capable of igniting all the gases and vapours of flammable liquids and even some of the dust.
Bucket
Energia wyładowania elektrostatycznego: 9 mJ ➡️ jest w stanie zapalić wszystkie pary cieczy palnych, gazy oraz część pyłów.
Human
Energia wyładowania elektrostatycznego: 90 mJ ➡️ jest w stanie zapalić wszystkie pary cieczy palnych, gazy oraz sporą część pyłów.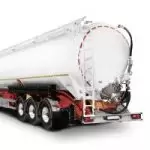 Tank truck
Energia wyładowania elektrostatycznego: 2250 mJ ➡️ jest w stanie zapalić wszystkie pary cieczy palnych, gazy oraz wszystkie pyły wybuchowe.
Minimum ignition energy of vapours and gases
| | |
| --- | --- |
| Explosive atmosphere | Minimum ignition energy [mJ] |
| Propanol | 0,65 |
| Ethyl acetate | 0,46 |
| Methane | 0,28 |
| Hexane | 0,24 |
| Methaneol | 0,14 |
| Carbon disulphide | 0,01 |
Minimum ignition energy of dust
| | |
| --- | --- |
| Dust cloud | Minimum ignition energy [mJ] |
| Wheat flour | 50 |
| Sugar | 30 |
| Aluminium | 10 |
| Epoxy Resin | 9 |
| Zircon | 5 |
| Certain pharmaceutical intermediates | 1 |
Magnetic clamp
There are situations where it is not possible to connect a conventional ground clamp because the object to be grounded does not have a projecting component. In such cases, a magnetic clamp will work great.
Magnetic clamp ma jeszcze kilka zalet w stosunku do typowych zacisków:
easier operation requiring no effort
the clamp teeth are cushioned, so they wear more slowly
quick connection and disconnection