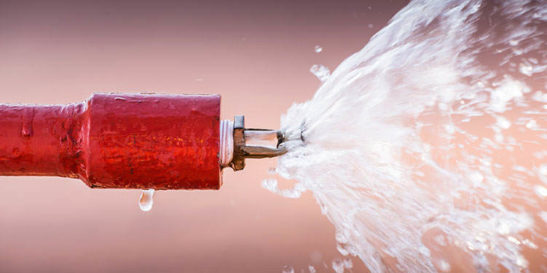 Contact our engineer
---
---
We will answer questions about: offer, technical specification, delivery, assembly.
The task of a fire-fighting system is to early detect and minimise the consequences of a fire, and thus protect people and property. Simple fire-fighting systems consist of a fire and smoke detector, a control panel and fixed fire-fighting systems, e.g. a system of pipes filled with an extinguishing agent and provided with outlet nozzles. Fire-fighting systems may be divided into four main types, depending on the applied extinguishing agent: water, water mist, foam and gas extinguishing systems.
The GRUPA WOLFF team of engineers is highly experienced in designing fire-fighting systems and selecting adequate solutions for specific uses, in consideration of all safety requirements, technical know-how and the binding legal standards.
We provide comprehensive implementation of smouldering fire detection and alarm systems, which are mainly used in protecting belt conveyors, tunnels, silos, dispensers, storage yards, bulk material storage facilities as well as hardly accessible places. The proposed solution frequently detects fire before the typical symptoms such as smoke or flame, which are detected by the traditional systems, appear. Thus, actions may be taken earlier and the risk of fire spreading is minimised, which also refers to the risk of losses resulting from system or product flooding. The smouldering fire detection systems designed by us are based on fire gas detectors and infra-red heat detectors, thanks to which they prove to be useful in difficult industrial conditions (high-dustiness and humidity), which may be found in power plants, cogeneration plants, cement plants or wood and cellulose processing plants.
Completed fire-fighting systems deliveries
Design of a fire detection, alarm and extinguishing system
Our experience enables us to design fire detection, alarm and extinguishing systems and to extinguish fires of various difficulty levels. The solutions may operate independently or as a part of the existing system. We use various technologies, which helps us optimise designs with regard to engineering and economy.
Installation and commissioning of a fire detection, alarm and extinguishing system
Thanks to our own installation department we are capable of performing tasks in a comprehensive manner, starting from preparing appropriate documents and design, through delivery of components, and ending with their installation and commissioning. The customer may, therefore, rely on one partner throughout the whole investment process.
Integration with other safety systems and visualisation
We always provide integration of our systems, and their further integration with the existing safety systems. At another step we create visualisations based on layout plans. For that purpose we use a proven IT system which is already operating at hundreds of buildings in Poland.