Brilex GE decompression panels
Brilex GE relief panels are the ideal solution for protecting process equipment, where frequent and prolonged cycles of vacuum and overpressure occur. A distinctive feature of these dampers is domed design, which gives the panels resistance to negative pressure without the need for additional vacuum solutions.
 Resistant to frequent and prolonged cycles of vacuum and overpressure 
 3 additional design options 
 Dome design means no additional vacuum solutions are required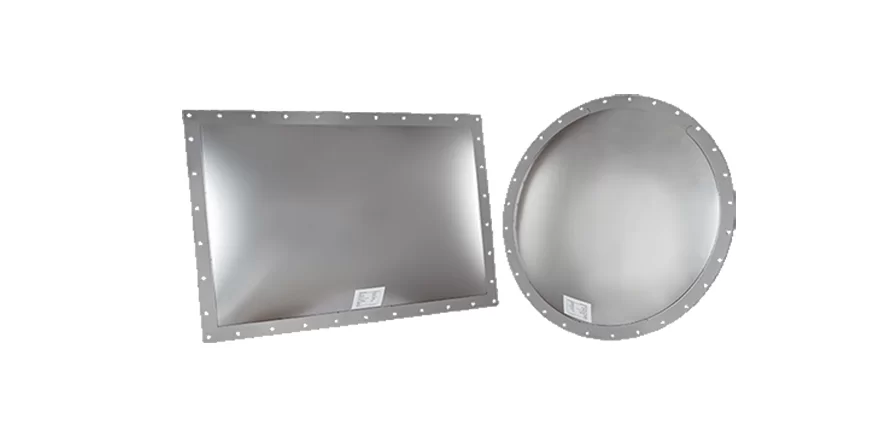 Brilex GE decompression panels decompression panels are suitable for applications including high vacuum resistance dust collectors from -1,000 to -5,000 mm WC for rectangular structures and up to full vacuum resistance (-10,000 mm WC) for circular structures. Available with insulation up to 100 mm and 100% for venting efficiency.
Standard specifications:
Material: 304 SS or 316L SS
Integrated seals
Opening pressure (Pstat): Standard 0.1 bar at 20 C, for other certified parameters (lower or higher) opening pressures contact us
Tolerance regarding opening pressure: Standard +/- 10%.
Sizes: Rectangular (229 x 229 to 1130 x 1130) (for larger sizes up to 1000 x 2000 see type KE), and circular (DN 200 – DN 1100), special sizes also available – contact us
Insulation: Optionally with ROCKWOOL with aluminium cover or Armaflex.
Venting efficiency: 100% depending on Kst. value
3 additional design options
Brilex vent TYPE GE-Z
Adapted for installation on pulsating plants, cyclones and other complex instruments.
Brilex vent TYPE GE-H
The panel in hygienic design, sanitary design. It is possible to protect installations in the food industry, thanks to the use of food-grade silicone, among other things.
Brilex vent TYPE GE-GT
Special variant for use in generator protection. It has a very high temperature resistance, and is mainly suitable for use in air intakes and engine exhausts.
Browse the available dimensions of Brilex GE explosion relief vents
| Inside dimensions [mm] | Outside dimensions [mm] | Vent area [cm²] |
| --- | --- | --- |
| 229 X 229 | 309 X 309 | 510 |
| 205 X 290 | 285 X 370 | 580 |
| 229 X 305 | 309 X 385 | 680 |
| 150 X 600 | 230 X 600 | 880 |
| 220 X 420 | 300 X 500 | 900 |
| 340 X 385 | 400 X 445 | 1280 |
| 305 X 457 | 385 X 537 | 1380 |
| 247 X 610 | 327 X 690 | 1450 |
| 340 X 440 | 400 X 500 | 1480 |
| 300 X 620 | 380 X 700 | 1860 |
| 320 X 640 | 380 X 700 | 2000 |
| 490 X 490 | 570 X 570 | 2370 |
| 375 X 655 | 455 X 735 | 2400 |
| 470 X 610 | 550 X 690 | 2800 |
| 490 X 590 | 570 X 670 | 2850 |
| 525 X 668 | 645 X 788 | 3400 |
| 610 X 610 | 690 X 690 | 3650 |
| 457 X 890 | 537 X 970 | 4050 |
| 620 X 670 | 680 X 730 | 4100 |
| 645 X 645 | 735 X 735 | 4100 |
| 653 X 653 | 733 X 733 | 4200 |
| 520 X 1020 | 600 X 1100 | 5250 |
| 586 X 920 | 666 X 1000 | 5350 |
| 500 X 1100 | 580 X 1180 | 5400 |
| 750 X 750 | 830 X 830 | 5600 |
| 750 X 840 | 830 X 920 | 6250 |
| 801 X 801 | 880 X 880 | 6400 |
| 610 X 1118 | 690 X 1198 | 6750 |
| 645 X 1130 | 725 X 1270 | 7280 |
| 720 X 1020 | 800 X 1100 | 7300 |
| 920 X 920 | 1000 X 1000 | 8400 |
| 915 X 1118 | 995 X 1198 | 10000 |
| 1020 X 1020 | 1100 X 1100 | 10400 |
| 1130 X 1130 | 1220 X 1220 | 12500 |
| DN | INTERNAL DIAMETER [MM] | EXTERNAL DIAMETER [MM] | VENT AREA [CM²] |
| --- | --- | --- | --- |
| 200 | Ø 208 | Ø 268 | 300 |
| 250 | Ø 261 | Ø 341 | 480 |
| 300 | Ø 310 | Ø 390 | 680 |
| 350 | Ø 342 | Ø 422 | 830 |
| 400 | Ø 393 | Ø 473 | 1213 |
| 450 | Ø 465 | Ø 545 | 1600 |
| 500 | Ø 494 | Ø 574 | 1820 |
| 600 | Ø 596 | Ø 676 | 2650 |
| 700 | Ø 696 | Ø 776 | 3650 |
| 750 | Ø 762 | Ø 842 | 4400 |
| 800 | Ø 797 | Ø 877 | 4800 |
| 900 | Ø 894 | Ø 974 | 6000 |
| 1000 | Ø 995 | Ø 1075 | 7600 |
| 1100 | Ø 1124 | Ø 1214 | 9850 |