Industrial vacuum distillers
Industrial vacuum distillers are designed for recovering of full value solvent. This process is based on vacuum distillation technology. Solvents are separated from contaminants by effective evaporation. Vacuum distillers are considered to be the most efficient solvent recovery equipment with the highest recovery rate. The proposed vacuum distillers have a capacity of 7 to 550 litres of contaminated solvent per day.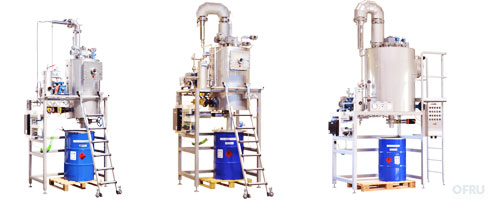 Contact our engineer
---
---
We will answer questions about: offer, technical specification, delivery, assembly.
Vacuum solvent distiller – Compact
The smallest contaminated solvent distiller with a capacity of 60 to 400 litres per day. The COMPACT unit operates fully automatically and is filled continuously by an integrated diaphragm pump or an optional vacuum pump.
Vacuum solvent distiller — ASC
The ASC solvent distillation plant is designed for customers requiring a capacity of 300 to 30,000 litres per day of waste produced. The plant is equipped with a conical stainless steel distillation vessel and an integrated high performance steam generator for efficient operation (starting with ASC-150).
The most important advantages of vacuum distillation of solvents
fast return on investment (up to 12 months)
up to 95% solvent recovery
savings on purchase and disposal costs
independence from suppliers
consistent solvent quality and availability
ATEX directive compliance
low operating costs of the unit
full control of solvent containers
impact on ISO certification and insurance costs
Compared to oil distillers, vacuum distillers are heated by steam, which brings many advantages such as faster heating time, no additional costs (purchase of oil and maintenance) and the possibility of using smaller heating space with better efficiency (space saving).
Industrial vacuum distillers are state-of-the-art and innovative units, which, in accordance with all standards and certificates, allow environmentally friendly actions related to reduction of pollution and using the same solvent reduces the costs of removal and disposal of hazardous materials.