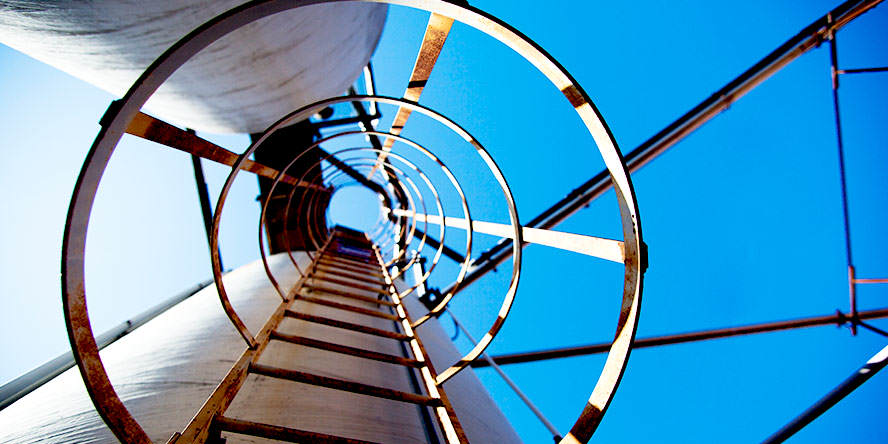 As ordered by a global supplier of energy services, water and waste treatment services, WOLFF GROUP will modernize a bucket elevator and two biomass silos. The bucket elevator will be equipped with explosion cut-off, suppression and venting systems. The silos will be sealed and secured with a system of several panels venting the explosion.
In this case, the bucket elevator is placed tightly between two silos. Additionally, it is entangled by a metal staircase. Both these factors are crucial for correct choice and configuration of anti-explosion protection.
For example, the decompression panels used in the project are both an economical and efficient anti-explosion system. It must be remembered, however, that the panels act through release of a fire wave and pressure from the protected device to the environment (wherein the fire wave may reach even several dozen metres). Therefore, the panels must not be directed towards pedestrian passageways (staircase) or to other installation elements (biomass silos). Having that in mind, WOLFF GROUP configured the anti-explosion system in such a way that it ensured the highest level of safety while being economically optimal at the same time.
The works to be performed under the "turn-key" system will also involve updating the Explosion Protection Document (EPD).
The scope of the order will cover:
modernization project of a bucket elevator and silos,
providing anti-explosion protection, i.e. HRD system and decompression panels,
mounting in the facility,
authorising for operation,
updating the Explosion Protection Document (EPD).
SCOPE OF WORKS: complex modernization of a bucket elevator and two biomass silos to adjust them to operation in explosion hazard zones, and EPD update
LOCATION: Poland, Wielkopolskie Province