We are extremely pleased to inform you that WOLFF GROUP™ has become an official sponsor of the building of the Polish Formula SAE (Society of Automotive Engineers) racing car designed at the AGH University of Science and Technology in Kraków.  On the first of July our racing car with a team of 30 people went to the international competition to be held on the famous Silverstone racing circuit in England. 149 teams from all over the world will take part in the competition.
"Another test for our Team will be the competition on a racing track in Győr, in Hungary in August. However, this year for us is a time for learning and gaining valuable experience for the following seasons during which we are going to face out the best teams in the world. We believe that Polish engineering solutions have good chances in competing with powerful players such as for example the famous Massachusetts Institute of Technology" – Sebastian Gruszka, MARKETING MANAGER, WOLFF GROUP™. 
What is Formula SAE?
Formula SAE races are the largest competition of this type involving 149 teams from the worlds best universities of technology. This year AGH Racing Team joined the group of competitors, supported by WOLFF GROUP™ – a Polish company supplying equipment and technologies for food, chemical, pharmaceutical, power and wood industry. WOLFF GROUP™ is formed by three companies: TESSA, ATEX and LEWTECH.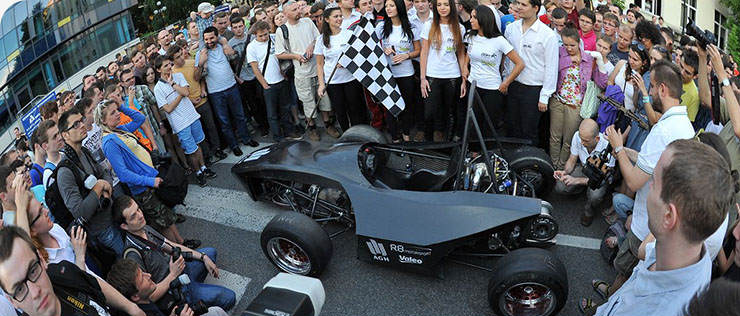 Rules of Formula SAE competition
The vehicles will be judged in two categories, comprising the following events:
1. Vehicle judging categories – static events:
Design Event (150 pts)  – defending the correctness of engineering solutions used,
Cost and Sustainability Event (100 pts) – discussion concerning the costs of production, options to cut down on the costs and vehicle durability,
Business Presentation (75 pts) – business presentation of the project
Technical and Safety Scrutineering (to be passed) – technical inspection and safety test,
Tilt Test (to be passed) – side-tilt test checking the vehicles centre of gravity
Brake and Noise Test (to be passed) – test of brakes and noise level.
2. Vehicle judging categories – dynamic events:
Skid Pad (50 pts) – figure-eight test,
Acceleration (75 pts) – test of acceleration at a section of 75 m,
Sprint (150 pts) – driving on a 1-km-long track limited by bollards,
Endurance (300 pts) and Fuel Economy (100 pts) – 22-kilometre track race with a change of driver after travelling half of the route and simultaneous fuel consumption test.
The winner is the team with the highest total score.

Design of the vehicle

A Formula Student vehicle is a small-scale copy of a real racing car and it must meet strict criteria of safety and driving parameters. To this end various software and calculation platforms are used at the design stage. Also, respective components of the vehicle are designed along with the simulation of loads, followed by building their physical prototypes. All these works contribute to adequate strength, quality and safety at the final stage of the construction and during tests.


The heart of the vehicle is the engine from a Honda CBR 600RR motorcycle. With regard to insufficient power of the engine and restrictive rules of the competition, an additional mechanical compressor was used. Thanks to this solution dynamic pressure charging can be replaced by static pressure charging, which contributes to a complete change in torque characteristics. The optimisation of the engine by means of a controller makes it possible to adapt its parameters ideally to the driving parameters of the vehicle.

Other components of the vehicle were fully built by the team – starting with the frame, through suspension to end with the steering system where both axles and rods and hubs are designed and built by students.
Corporate Social Responsibility of WOLFF GROUP™
WOLFF GROUP™ is a dynamic Polish company supporting the development of many branches of industry. The main areas of our operation include:
food industry,
chemical industry,
pharmaceutical industry,
power industry,
wood industry.
Our core activities in the above-mentioned segments are:
delivery of explosion and process safety systems
delivery of turnkey process systems (including dust extraction and central dust removing systems),
delivery of powder, granulate, liquid and paste production equipment,
transfer of innovative technologies.
Such a wide scope of operation makes us feel responsible for the development of Polish engineers and Polish engineering solutions and for increasing the safety of production. Therefore, with a great satisfaction we get involved in a project supporting our national universities such as AGH in Kraków and its students. We hope this will take us a step closer to developing a new generation of outstanding Polish engineers and innovative technologies made in Poland.