Recently, the WOLFF GROUP engineers have received a notice of an alarm call after the activation of an explosion suppression and decoupling system in a power supply facility. The activation occurred in one of the milling systems. After 4 hours, the service team arrived and commenced the process of analysing the event.
In agreement with the customer, works were immediately started to restore the functionality of the explosion suppression and decoupling system. The service technicians replaced all cylinders and carried out performance tests of the system. After ca. 6 hours, the milling system was ready for restarting.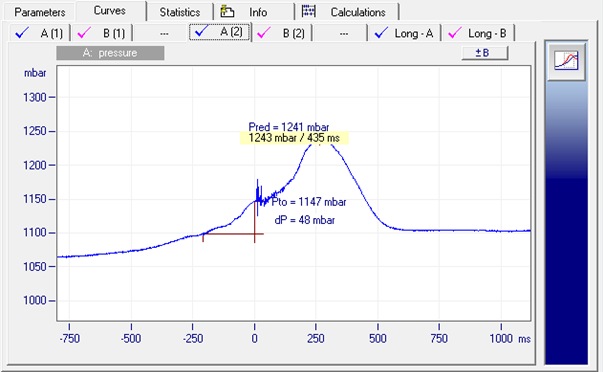 Data from the MEX3.2HT dynamic pressure increase sensor.
The actions taken by the service team included checking of the milling chamber where red-hot coal still remained. Then the data were read from the dynamic pressure rise sensor mounted on the mill (see the chart above). It turned out that the pressure change over time was consistent with the explosiveness characteristics of the milled product (the area on the graph bounded with red lines). As a result, the cylinders with a damping medium were activated thus preventing a dangerous explosion development.
The reduced explosion pressure in the mill reached only 1241 mbar and was higher than the standard working pressure of the mill by less than 200 mbar. Explosion suppression system parameters are so selected that they prevent the reduced explosion pressure, i.e. the explosion pressure minimised by the protections, from exceeding the structural strength of the protected device.
SCOPE OF WORKS: service operations after the activation of an explosion suppression and decoupling system in the milling system at a power supply facility
24/7 Service

We provide our customers with fast and skilled servicing of systems and equipment
508 484 508

Emergency phone – available 24 hours a day and 7 days a week