Welcome to Katowice – or moving of our design office to a new location
It is said that the time of moving is a serious challenge both for the owner and the employees. They say that chaos and disorganisation may accompany the move, that this may result in many problems… But, as it appears, good organisation beats the common myths – we are a proof that moving is nothing dreadful and may take place without any stress or complications. After all, it is another step of development!
The last two weeks were very intensive for us but despite daily duties we have managed to reconcile work with the change of location. We were touched when leaving our office in Piekary Śląskie where we had spent the previous years, and we opened a new chapter not far away… in Katowice. New, larger space will improve the comfort of work of our designers and enable the team enlarging, whereas the greenery outside will surely contribute to concentration. We wish to officially invite you to the new seat of our design office!
Design Office – GRUPA WOLFF
Jesionowa Business Point
22/6 Jesionowa St.
40-158 Katowice, Poland
We design industrial systems
Our design office supports the departments responsible for technical safety, assembly and service. This enables us to build systems which require knowledge in construction, electric power, structures, as well as process and explosion safety. Check our selected projects: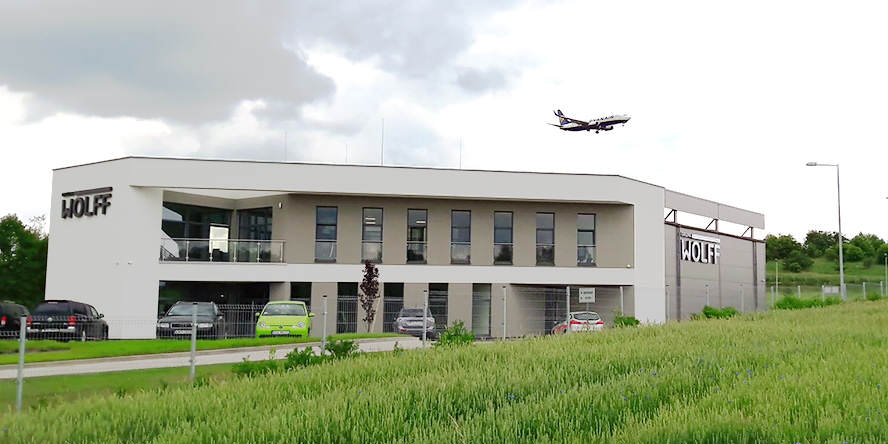 WOLFF GROUP main office in Kraków
5 Spacerowa St.
32-083 Balice, Poland
The company head office is located in Krakow. The majority of requests are directed here and only then are they distributed to the appropriate Group units. This is also here where the most important projects related to explosion and process safety, deliveries of machines and equipment and turn-key construction of technological systems are completed.
Jesionowa Business Point
22/6 Jesionowa St.
40-158 Katowice, Poland
In Katowice we design technological systems that are then built in cooperation with other units of the Group. The typical tasks in this area include turn-key construction of dust extraction and central dust removing systems intended for operation in explosion zones.
WOLFF GROUP – Brazil Branch
Grupa Wolff Brasil Ltda
Rodovia Jornalista Maurício Sirotsky Sobrinho, 5977 conjunto 1A
Bairro Jurerê
88053-701 Florianópolis (SC)
CNPJ: 28.010.230/0001-50
Inscrição Estadual: 258429674
Telefone: +55 48 996 391 780
Representation of Serbia, Bosnia and Herzegovina, Croatia and Montenegro
Nikolić M. Dušan
jugpol@gmail.com
+48 602 306 731
+381 63 200 419