RapidGas S aspiration detector
The RapidGas S aspiration sensor is used for measurement in places that are difficult to access, dangerous to humans (e.g. a generator in a power station, generator connections), or when the gas being measured has a high temperature, humidity.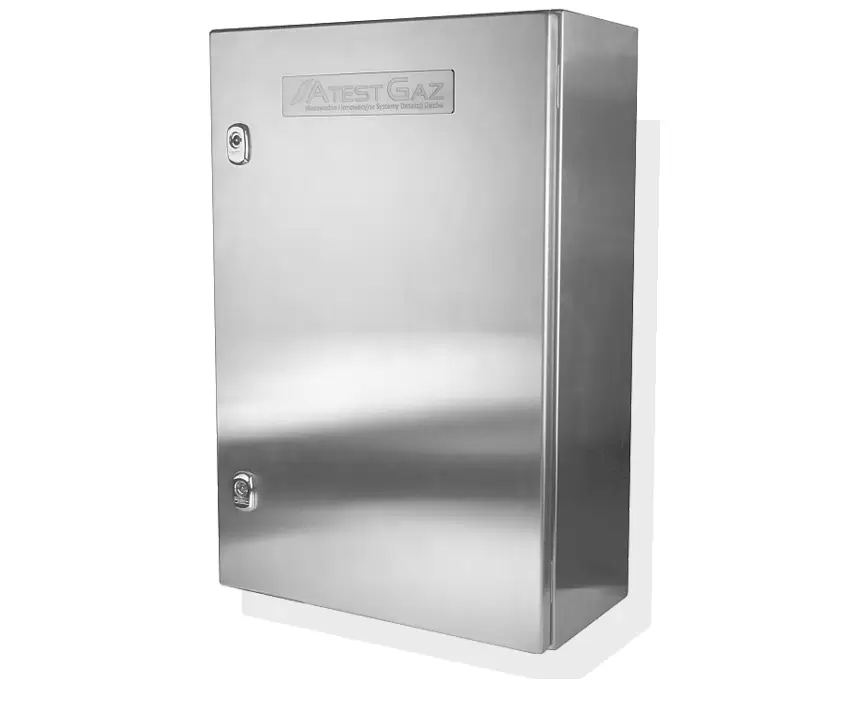 Fully configurable device in terms of e.g. measuring range and accuracy, response time, ambient temperature or humidity

 Universal platform allowing the use of virtually any gas sensor
 For use when environmental conditions at the measurement site are extremely harsh
The RapidGas S detector is a multi-channel atmospheric gas detector that works by aspiration sampling from several measurement locations. The principle of the sensor is that, with the help of sampling points, gas paths and a pump in the sensor, samples of the atmosphere are moved to the gas sensors in the device, the concentration of the agent is measured and then the samples are returned to the atmosphere.
The sensor can be applied wherever:
it is necessary to monitor gas concentrations at a number of distributed locations,

gas sampling sites are difficult to access,

and/or there are abnormal environmental conditions at these points (extreme temperatures, extreme humidity, vibrations, high electromagnetic fields, etc.),

high measurement accuracy must be achieved due to e.g. temperature stabilisation, gas pressure compensation, sample drying, periodic auto-zeroing/auto-calibration of the instrument,

sampling is necessary, e.g. from a pipeline,
Up to 5 measurement channels can be configured
The RapidGas S allows measurements to be taken from up to five measuring locations. This has positive effect on the quality of measurement, but also the functionality when gas needs to be aspirated to assess concentrations from a number of hard-to-reach locations, making this detector a cost-effective solution.
The unit inside consists of:
1. Sensor modules
2. Internal filters
3. Pump modules
4. Flowmeter modules
Why choose the RapidGas S aspiration detector?
Aspiration measurement, and this means that it is carried out quickly, using built-in flow-controlled pumps.
It is possible to clear the path of condensation by means of a reverse AKP air purge
Stable temperature conditions prevail inside the unit, which prevents measurement deviations
Up to 5 measurement channels – economic use of the sensor,
Individually tailored sensor
Often, industrial plants are built in such a way that they would prevent operational access to diffusion sensors. And such sensors should be calibrated accordingly. The sensor is also subject to periodic replacement due to its defined lifespan. The lack of access to the sensor prevents its use in practice. In such a situation, an aspiration sensor becomes the ideal solution, which draws in air from the measuring point and leads it to a detector in the gas ducts. The measurement, on the other hand, is performed inside the sensor, which is then placed in an easily accessible area outside the measurement zone.
It is very common in industrial settings to have difficult working conditions. They often prevent people from working. Environmental conditions such as strong electromagnetic fields, high temperatures and others are considered here. In such situations, aspirating a sample from such locations into an aspiration detector is an excellent, and sometimes even the only, way to measure gas concentrations.
If gas concentrations are to be measured at multiple locations, it will sometimes not be economically viable to use diffusion sensors. This is because the total cost is heavily influenced by the cost of the sensors. The use of an aspiration detector then, to which up to 5 gas channels can be fed that will switch and carry out measurements with a single sensor, will be a cost-effective solution in many situations.
Detector
RapidGas S
Types of gases
Flammable gases, Diversity of detected gases and vapors.
Catalytic sensors
Measurement range
LFL
0–100%
Performance
Relative humidity
10 – 90% continuously
0 – 99% momentarily
Pressure range
1013 ± 10% hPa
Physical features
Wiring
0.5 – 2.5 mm2 solid wire
0.5 – 1.5 mm2 stranded wire
Protection degree
IP 53
Weight
20 kg
Enclosure material
Aluminum, epoxy paint coating
Approvals
Electrical protection class
III
* Depending on the gas. Detailed information available in the device user manual.