Wireless fire detection and alarm system | fire detection system
We design and implement wireless fire detection and alarm systems which do not require traditional cabling. Such solution is simple and fast to install, and at the same time extremely aesthetic (the sub-assemblies imitate marble and wood or may be finished to RAL colours). All that makes such systems ideal for buildings where interior must remain intact, high aesthetics is important and the simplicity of installing wires is crucial. This refers mainly to historic buildings, religious buildings or heritage monuments under the supervision of heritage conservation officer (churches, museums, cathedrals). The proposed wireless fire detection and alarm system may be easily integrated with the traditional systems of other manufacturers.
The devices within a system are powered with generally available CR123 batteries (in other systems expensive battery packs are often used), which ensure between 6 and 8 years of operation. The system is also provided with back-up batteries which keep the alarm system going for 6 months of the moment the main battery is discharged.
What we will do for you
A wireless fire detection and alarm system is one of several key solutions we design and implement in enclosed structures (offices, hotels, churches, halls, warehouses). Apart from the wireless solutions, we provide also traditional fire detection and alarm systems as well as hybrid solutions which combine both techniques. An important recipient of our offer is industry, for which we supply dedicated fire-fighting solutions. Below presented is the scope of work we provide. In that regard we provide comprehensive solutions, starting from preparing adequate documentation, through design development, and ending with implementation and integration of the fire detection and alarm system with the existing safety solutions.
Application of a wireless fire detection and alarm system
The system has been created to protect historic, sacral and public utility buildings. Its use is particularly justified in one of the following circumstances:
Wireless fire detection and alarm system concept
The proposed fire detection and alarm system is the first comprehensive wireless solution for all structure where it is not possible to provide traditional cabling or carry out construction works, or even the smallest repair. Its installation is fast and efficient, whereas thanks to the elements which imitate marble or wood or are painted to a RAL colour the effect is highly aesthetic.
MAJOR BENEFITS
Most benefits deriving from the installation of a wireless fire detection and alarm system will be visible in buildings of high-aesthetics or historic buildings, as well as ones which require fast and clean installation without any wires (churches, cathedrals, museums, buildings subject to Heritage Conservation Officer's supervision, or existing buildings which must be provided with additional systems, often during their normal operation).
The strongest arguments for selecting that solution include:
permits required by law, issued by CNBOP [the Scientific and Research Centre for Fire Protection],
fast, clean and simple installation without laying cables, hammering out, raising dust, and creating a mess,
ensuring high system aesthetics (the system elements imitate marble, wood or may be painted to a RAL colour),
possibility to easily install the system at any stage of the building life cycle,
unlimited possibility to integrate the system with the existing ones,
possibility to provide hybrid operation, i.e. partially wired and partially wireless,
low operating costs.
PRINCIPLE OF OPERATION
The wireless part of a fire detection and alarm system is based on an established in Europe, patented Lybra digital protocol using the 868-870 MHz frequency. Such system elements as detectors, alarm sounders, audible and visual alarm systems, manual call points, signal intensifiers and signal translator communicate on wireless basis. A coded signal is sent through 7 independent channels, which connected with a multi-directional antenna practically eliminates interference and fadeout. The system communication fulfils the technical requirements of a standard for fire alarm sub-assemblies using radio frequency links (EN 54:25).
Any devices in their basic version have a transmission reach of 200 m*. With the use of expander modules (SGWE) the distance may be increased to 500 m*. The solution is useful in large spaces or complex topography of buildings.
 * rated reach. Owing to the variety of installation places and different structures of buildings, the actual reach may be different from the stated one (either higher or lower). It is recommended to measure the signal strength and prepare a technical report before the system is installed.
All of the devices of a fire detection and alarm system are integrated through a wire to wireless system translator (VW2W), which in accordance with the regulation is connected to a wired loop of the fire detection system. Each VW2W translator enables connection of up to 32 wireless devices of any kind. In each loop of the intelligent fire detection system there may be up to 7 wireless section (micro cells) created based on a single translator. A VW2W translator enables the transmission of alarm/error messages and identification data from the wireless elements of the fire-fighting system main control panel. Additionally, for safety reasons, it records in its own memory any events which may serve as a source of information verification (or back-up for the events register) in case of doubt or main panel damage.
LOW BATTER COST – LONG OPERATION
The system devices are powered with generally available standard lithium batteries CR123 of 3 V voltage, which may be purchase at any shop. The main batteries keep the system going for 6 to 8 years, whereas with back-up batteries maintain the alarm status for 6 months of the moment the main battery is discharged. Batteries are monitored on continuous basis and their discharging is reported with a respective message in the system main panel. The maximum battery operation time of 8 years is a record among the wireless solutions offered on the market.
Control panel
The control panel being the hart of a wireless fire detection and alarm system has been designed in accordance with the standards applicable to control panels and supply systems in fire-fighting systems (EN 54-2 and EN 54-4). The equipment may serve 240 devices divided into 20 alarm sections. Moreover, it is furnished with two programmable voice alarm circuits, two programmable transmitters, a LED display, a memory storing up to 1,000 events and a USB interface. Optionally, it may be provided with RS232, RS485, TCP/IP cards and a GMS module to culminate alarms and errors.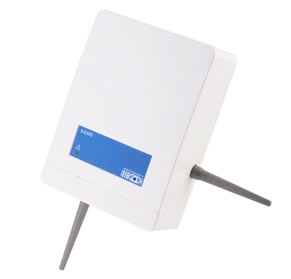 Signal translator
The device processes information sent to it from wireless devices (detectors, expanders, modules, etc.) and forwards it to the control panel. Up to 32 wireless devices may be connected to one translator. The device ensures two-directional communication. Thanks to its complete communication both the translator and the wireless devices are recognised by the control panel as addressable devices. Thanks to that the protected area may be divided into sections.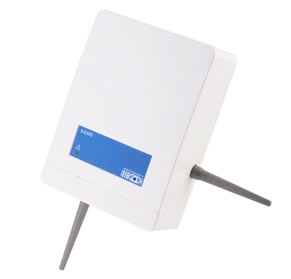 Expander
An SGWE 1000 expander ensures radio signal intensification, thanks to which the distances between the devices within a wireless fire detection and alarm system may be increased. The nominal reach of the system sub-assemblies is 200 metres, and the expander extends that distance to 500 metres. It is useful in protecting large-space structures or ones of complicated topography. Up to 32 wireless devices may be connected to one expander.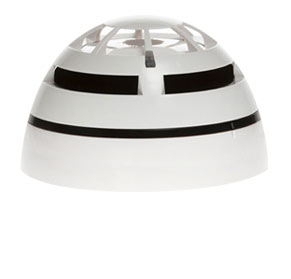 Wireless fire detector
The system is built based on three types of sensors: a heat sensor, an optical sensor and an optical-and-heat sensor, which combines the features of the former two. All of the sensors are fully addressable and compatible with all of the expanders (signal intensifiers) and translators by Argus. The applied algorithms ensure optimal operation of the detectors by eliminating false alarms. Thanks to a very low energy consumption, the device may operate up to 8 years on one set of batteries.
Wireless manual call point
A wireless manual call point ensures two-directional communication with the system. After its activation the signal is immediately transferred to the control panel. After activation the device is reset with the use of the attached key. The device is very easy to install and extremely cheap to operate. A wireless manual call point is powered by generally available batteries. The device has been developed in accordance with the standards for manual call points and sub-assemblies using radio frequency links in fire alarm systems (EN 54-11 and EN 54-25).
Wireless alarm sounder/ audible and visual alarm system
Fire is signalled through wireless alarm sounders or audible and visual alarm systems. The devices comply with the standard requirements for fire alarm systems and visual alarms in fire-fighting systems. The device is resistant to weather conditions. It has 32 sounds and a mute mode, in which it will only operate as a visual alarm. Thanks to the incorporated microphone it is capable of detecting proper operation when the alarm is sounded and return an error information to the system. The device installation is very fast and simple, and the use of the same generates very low costs.