Smouldering fire detection | fire detection system
We design and implement comprehensive fire detection and alarm systems for smouldering fires. These are usually applied in fire protection of belt conveyors, storage yards, dispensers and silos (power engineering, cement plants, incineration plants, wood and cellulose industry). The solution has been operating in hundreds of industrial plants, frequently as a replacement for the traditional smoke detection systems, which were not able to detect a smouldering fire, as they were not reacting, reacted to late or generated false alarms.
The system is capable of detecting the origin of fire before smoke and flames appear, which is much earlier than compared to the traditional detection systems. This enables effective reaction and limitation the potential losses to minimum, both those resulting from the fire and the building flooding as a result of the system reaction inadequate to the hazard present.

DONAT CZAPSKI

- I am at your disposal
---
We will answer questions about: offer, technical specification, delivery, assembly.
What we will do for you
Below we present a list of the work completed by us in relation to developing and implementing smouldering fire detection and alarm systems. Depending on customer needs we may implement all of the solutions or only the selected ones. We are also capable of providing fire detection and alarm systems based on other technologies, intended for industrial buildings and enclosed structures (offices, halls, warehouses, sacral buildings, etc.). Contact us if you are looking for another fire detection and alarm system.
Application of smouldering fire detection and alarm systems
Early fire detection, frequently before smoke and flames appear, which originates at conveyor belts, storage yards, as well as coal, biomass, alternative fuels and waste dispensers and silos. The system is dedicated to operating in heavy-duty industrial environments, particularly in high-dustiness and humidity conditions.
Concept for early fire stages detection and alarm systems
The proposed fire detection and alarm system is designed based on three types of detectors which facilitate discovering fire gases, particles smouldering in the mass of product, or overheated equipment elements. In that way both the first symptoms of fire (usually before smoke and open fire appear) and the potential sources of ignition may be detected and reacted to. Such solution contributes to minimising the risk of fire or the risk of flooding a system as a result of inadequate system reaction to the possible hazard.
The signals from the detectors are analysed in real time with the use of smart software. The task of the software is to correlate and assess the signals coming from the particular detectors and eliminate the background effect. As a result, the system returns graphic information about the probability of fire and reacts after a limit value is exceeded.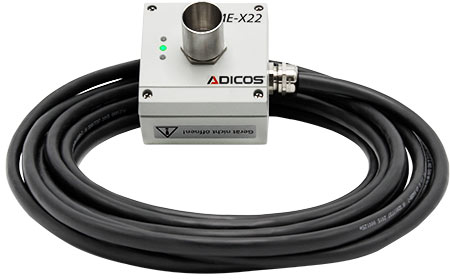 Fire gases detector
The classical fire detectors react to smoke or flame. The fire gases detector reacts at a much earlier stage, frequently when the fire does not yet present the usual symptoms in the form of smoke and fire. Thus, we gain valuable time needed for fire-fighting actions, which may save lives and property. In the fire detection and alarm systems we implement we use very sensitive multi-sensor detectors capable of detecting CO, H2, NO2 as well as hydrocarbons in quantifies as small as a few ppm. In need, the systems may be calibrated to other specific fire gases and adjusted to operate in explosion hazard zones.
Pyrometers
Such detectors are used to discover hot or smouldering particles in a mass of product or overheated equipment elements. That enables not only to increase the efficiency of the whole detection system but also to eliminate the potential sources of ignition. We are, therefore, capable of starting fire-fighting actions even before the first symptoms of fire occur. A typical application of the detector is monitoring, for example of belt conveyor engines, transmissions or rollers. The detector's "eye" views a certain area, dividing it to smaller squares. Such solution allows to measure the temperature in each of the square separately.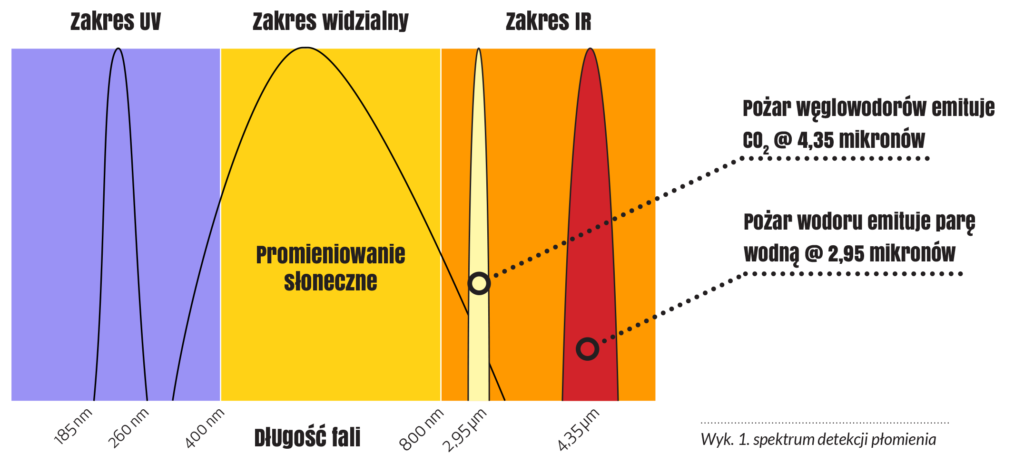 Laser CO2 detector
Such detectors help discover CO2 as soon as it enters the path of the laser beam. This means that the gas does not to come into contact with the very detector, which is a great advantage. For example, the laser detectors we use are capable of detecting CO2 from the distance of 100 metres. In this way, we may eliminate the influence of external factors such as wind, ventilation or draughts, for example, on the efficiency of detection. An equally important argument for the use of laser detectors is the possibility of limiting the total number of detectors within a fire detection system, which considerably lowers the system cost.